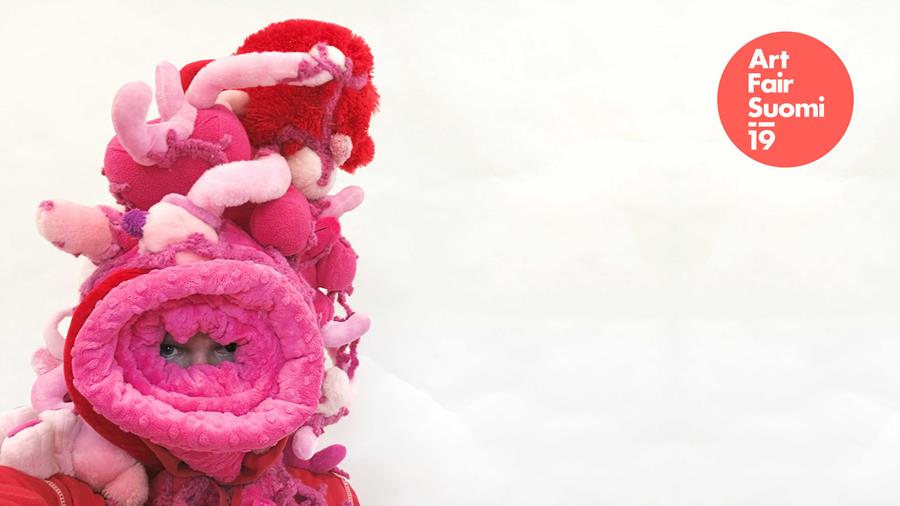 At the end of May, Art Fair Suomi contemporary art festival brings a mighty bunch of visual artists from Finland and elsewhere to Helsinki. This cornucopia of contemporary art wells with acquirables and adorables, since more than 1000 artworks, performances and happenings from more than 300 artists are presented at the fair. This year the artistic labour is visible also at the Flea Market of Art (Taidekirppis) where the audience can purchase treasures brought straight from the artists' studios.
The artists and the artworks of the festival will be spread across Cable Factory in a sales exhibition and in 20 gallery booths, altogether. The craziest and biggest of all the artworks, Oil Monster: the Point of No Return, bouncy castle by artist duo Andy Best and Merja Puustinen, stands out in the middle of Merikaapeli hall. The house-sized work comments global warming – "monster from the deep" deals directly with the urgent crises of climate change and environmental degradation caused by overconsumption, and the use of fossil fuels.
The exhibition is divided into different thematic parts and in Merikaapeli hall the new section of Taidekirppis, art flea market, is presented for the first time. The idea of the flea market was created by our young Australian curator Katie Lenanton, who wanted to make the artistic work and secrets of the studios visible for the audience. In her words:
"I read objects as cumulative portraits of a person, a community, a context. I have found and lived with many strange and wonderful things since moving to Finland four years back, and I hope that this group of artists—with their specific tastes, worldviews, and proclivities—might contribute to furnishing many memorable environments in the future."
The winner of the Artproof Grant will be announced at the opening of the festival on the 22nd of May. The awarded works will be exhibited for the first time in Art fair Suomi. Besides Finnish artists, the fair showcases art from all over the world, including e.g Canada, Russia and US – however, this year Italy is in the focus. Focus Italy presents artist duo Zapruder, and artists Antonio Rovaldi, Rä Di Martino and Resi Girardello at the fair. Screening Home Abroad, curated by Lorella Scacco, seeks to examine the concepts of home, mobility and otherness through the works by Italian and Finnish artists. Home Abroad will be presented every day of the fair.