Maimu Brushwood neé Huolirinta, the art ambassador of Art Fair Suomi: "Exhibition spaces and galleries are common spaces for everyone and all free of charge, so step right in!"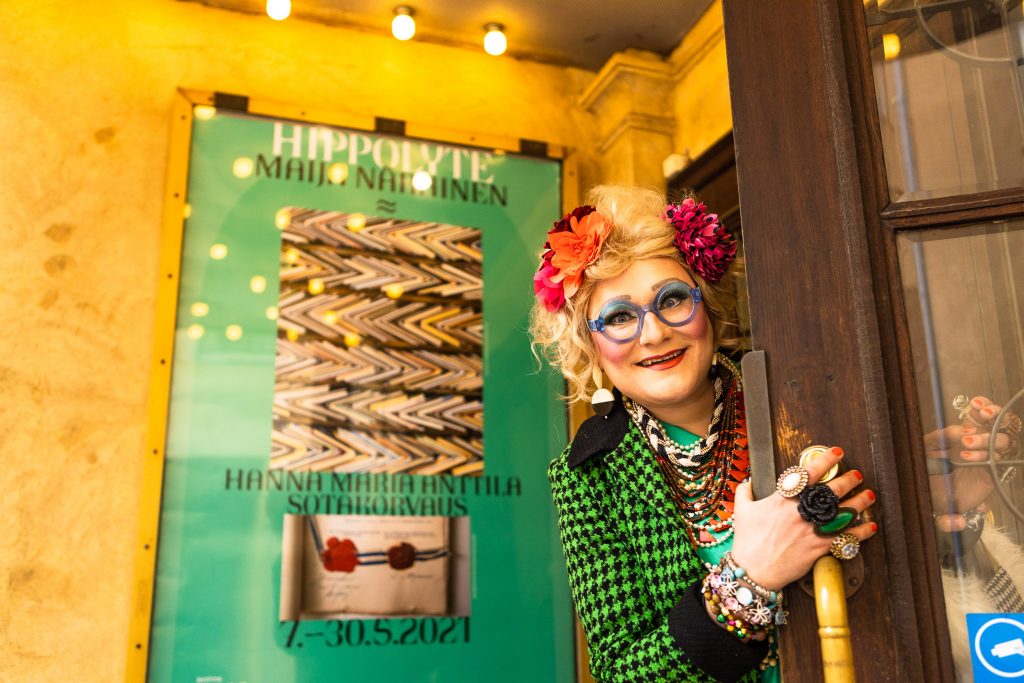 Maimu takes you on a gallery tour
The art ambassador of Art Fair Suomi, Maimu Brushwood neé Huolirinta encourages everyone to go out on a gallery tour. Maimu emphasises that galleries are urban spaces where everyone is welcome. Our newly published video takes you an a tour to the world of galleries and exhibitions together with Maimu. Maimu explains how to get into a gallery and how to plan a gallery tour. With these tips, you can certainly plan your own gallery tour for the Art Fair Suomi week!
On Helsinki day, 12 June from 12–3pm, Maimu will host an art marathon, with a goal to tour 11 galleries in three hours! All you need are sneakers, water bottle and some adventure spirit. Only 10 people can be allowed on the tour so sign up now to ensure your spot! Sign up link for the Art Marathon.
Guided tours at Art Fair Suomi
There are also plenty of other guided tours available, including tours with a queer perspective to art, escapism themed tours, music tours, tours for those who feel that they do not understand contemporary art, and activations for children. In addition, you can take part in a tour in easy Finnish, Helsinki Art Walk that is hosted in English or the central Helsinki gallery tour. Cannot participate live? Join a guided virtual tour!
Check out the full listing of guided tours and other events on the Exhibitions and events site!
You can also visit galleries independently and spontaneously
For exhibition visits at Art Fair Suomi,  you do not need to sign up beforehand. You can stop by spontaneously or plan or visit or tour at a moment that suits you best. Please do not that there are some events at the galleries, during which the gallery spaces might be full. You can check each gallery's own programme on the Galleries site.
Art Fair Suomi Goes Galleries is a joint effort of 24 galleries, 23 of which are located in Helsinki and one is an online gallery maintained by a Tampere-based working group. The participants represent a versatile selection of galleries. In total, Art Fair Suomi presents works of almost 100 artists!
You are warmly welcome to tour the AFS galleries and exhibitions in the way that best suits you – whether it means the art marathon challenge, joining a guided tour, or conducting an independent tour on your own or with friends.
Watch the video below!