The official talks programme of Art Fair Suomi: AFS Talks @ Konttori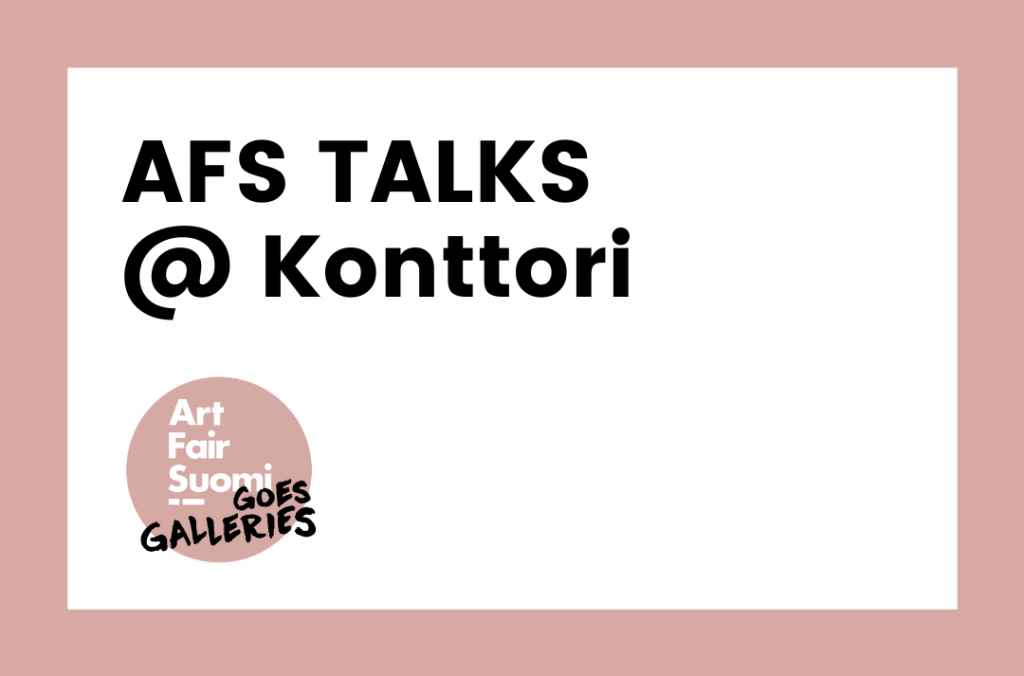 AFS Talks @ Konttori is the official discussion programme of Art Fair Suomi Goes Galleries. Ronja Kuoppamäki talks with AFS artists, and you get to dive deeper into the festival themes and the artists' talks. The discussions will be held at the Cable Factory's Konttori (Tallberginkatu 1, 00180 Helsinki) and they will be streamed online. We will host a total of six AFS Talks events on the Wednesday, Thursday and Friday of the festival week. The talks will be held in Finnish.
Schedules, artists and themes:
Wed 9.6. from 2–3 p.m.
Artists: Lars Holmström, Johanna Gullichsen ja Hanna Anonen
Themes: Clear colours and lines. Design, decisions and pressures.
Wed 9.6. from 3–4 p.m.
Artists: Emmu Johansson ja Tiina Palmu
Themes: "Beauty is in the eye of the beholder". Impact of music on artworks and the experience of art. Participation and soundscapes of the human body.
Thu 10.6. from 2–3 p.m.
Artists: Sanna Majander and Sara Pathirane
Themes: The relationship between the nature and humans. Materials, ecology, empathy and feelings.
Thu 10.6. from 3–4 p.m.
Artists: Ulla Kokki
Themes: Photography and demarcation. Gazes and memories. Ambiguity of the concept of place. Change and momentariness, limits of the abstract.
Fri 11.6. from 2–3 p.m.
Artists: Suvi Sysi
Themes: Working processes and directions. Escapism. What questions do artworks raise in the body and the mind? What is safe and private?
Fri 11.6. from 3–4 p.m.
Artists: Maria Vesterinen
Themes: Sexuality, joy and reality. Personal and human strength.
You can follow the talks either live at Konttori or online. Registration is required for live participation. We can only allow 10 audience members.
Registration links:
AFS Talks @ Konttori ke 9.6. at 2pm
AFS Talks @ Konttori ke 9.6. at 3pm
AFS Talks @ Konttori to 10.6. at 2pm
AFS Talks @ Konttori to 10.6. at 3pm
AFS Talks @ Konttori pe 11.6. klo 14
AFS Talks @ Konttori pe 11.6. klo 15
Kaapelitehtaan Konttori, Tallberginkatu 1 00180 Helsinki
Link to Wednesday's recording:
https://youtu.be/4iAgcMVqXl4
Link to Thursday's recording:
https://youtu.be/lXzJP_WQnFY
Link to Friday's recording:
https://youtu.be/HLjUgCSEbdw