Art Speaks in the AFS23 Talks Series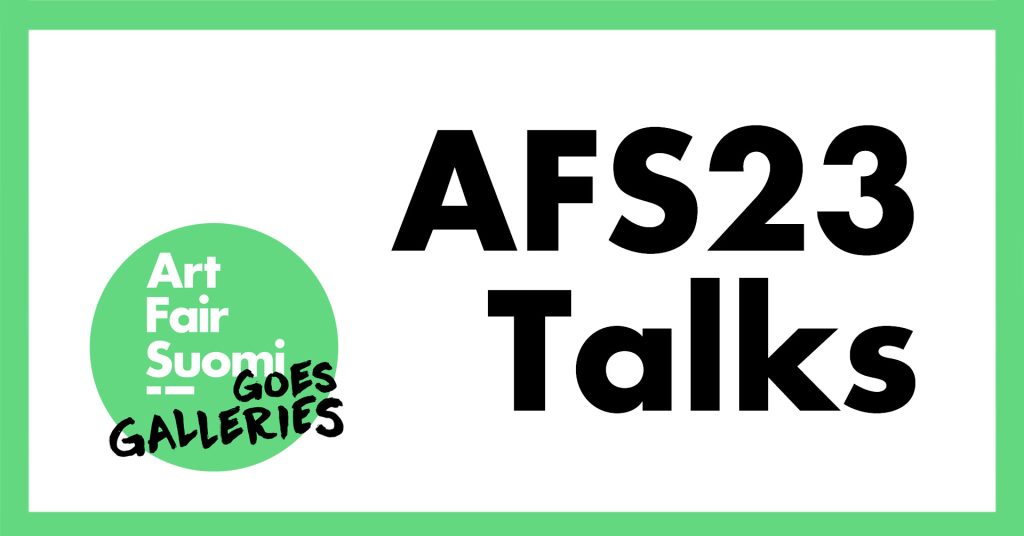 AFS Talks is a joint discussion series organised by the Art Fair Suomi festival galleries. In the series, you can delve deeper into the work of the artists and the themes of the works.
There are a total of five discussion events and they are organised both remotely and in various galleries. In addition, a video screening event in two galleries will be held during AFS.
Schedule
Wednesday 7.6. at 5.30-6.30pm Photographic Gallery Hippolyte
Ida Pimenoff discusses the themes of the gallery's current exhibitions with the artists Anna Niskanen and Liinu Grönlund.
Thursday 8.6. from 5-6pm online
Ida Pimenoff (moderator), Ripsu Hongisto-Salmi (Gallery Huuto), Laura Konttinen (Hippolyte Korjaamo) and Paula Ollikainen (Gallery Katariina) discuss the topic of reality and its representation in pictures. What can be deemed as true in pictures and stories? What are the different narratives of the self, and how do they emerge through the act of play?
Tuesday 13.6. from 5-5.45pm online
Minka Heino & Minna Markkanen (GalleriA, Kuopio) discuss Markkanen's art and the new exhibition Skin which opens at GalleriA on 15.6.23.
Tuesday 13.6. from 6-6.45pm online
Minka Heino & Leena Mäki-Patola (KOUTA gallery) discuss Mäki-Patola's art as well as the exhibition, Inner Worlds, which is on display in KOUTA gallery in Kouvola.
Friday 16.6. at 5pm
MUU Video screening, shown simultaneously at the Art Centre East, Lappeenranta and MUU Helsinki Contemporary Art Centre
Friday 16.6. at 6pm online
After the joint video screening at Art Centre East and MUU, Minka Heino discusses the artists and the works from the video screening.
Link to the Art Fair Suomi Youtube channel
Online discussions are held in Finnish on the Zoom platform. Advance registration is not required.